Photo of 'Daffodils' Lynne Devereax and Deb Ryan-Newton with Louise Solheim at Killeen Castle in 2011. This is the photo they presented to John Solheim at St. Leon-Rot in Germany in 2015.
The European fans known as the daffodils, because of their bright yellow headdresses designed to look like the flower, attended their fifth Solheim Cup at Gleneagles.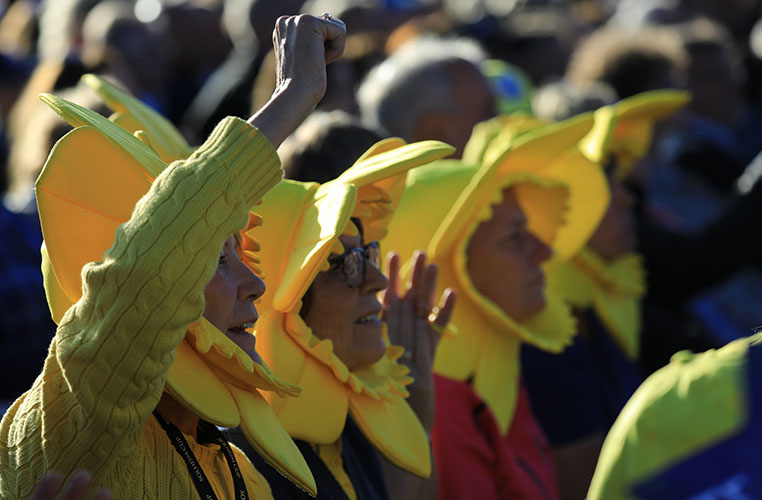 The group from Morlais Castle Golf Club in South Wales experienced the competition for the first time at Killeen Castle in 2011, when Ruth Leonard invited her friends to attend and they have been to all the subsequent matches in Colorado, Germany, Iowa and Scotland.
"It was such good fun watching Europe win in Ireland and we felt that we were good omens," says Fiona Edwards, from Scotland.
"Then the first time we went to America, Europe won over there, so it was brilliant."
"We loved Germany, because it was well organised and the OktoberFest tent was great!"
Fellow 'daffodil' Pauline Halliday says that the 2019 European captain Catriona Matthew has always been her favourite player. "Beany's always been mine, she's on the back of my Europe flag and she's the only one I don't have an autograph from."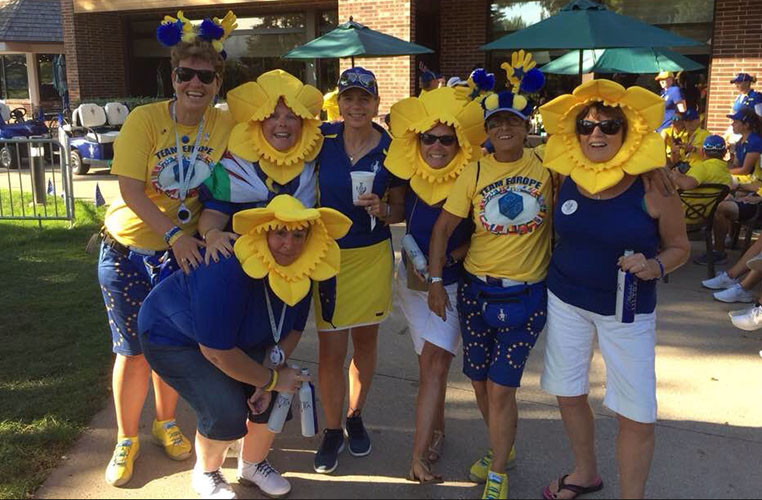 "When we were in Des Moines (above, with the captain Annika), Mel Reid invited us for a drink in the clubhouse, so we feel as if we are part of the family. They know us because we wear our daffodils."
The group also share a special connection with PING Chairman and CEO John Solheim, as during the 2011 Solheim Cup in Ireland, they had a photograph taken with his late mother, Louise Solheim, who together with her husband Karsten, founded the Solheim Cup. Lynne printed it and presented it to him in a frame during the 2015 match in Germany.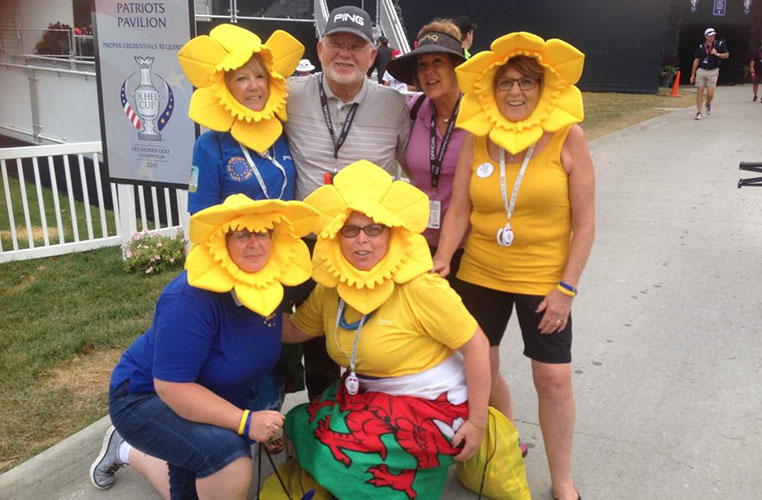 "After that, in Des Moines, he came running after us when he saw us, so we had another photograph, with him. He said that his mother used to call us the sunflowers and before she died, he took her to a field of sunflowers, which reminded him of us," she said.
The 'Daffodils' are some of Europe's most committed fans and with their singing and waving in the grandstands, they brighten up the first tee at every event.
After being part of the 2019 Solheim Cup, where 90,000 people attended, Deb Ryan-Newton added: "Amazing finish to what has been an amazing few days."
Bring on the next Solheim Cup in Ohio in two years!