The two-time Evian Masters champion, in 1995 and 1996, has played in all the tournaments at Evian since the beginnings in 1994. Here she recalls her memories from the last quarter century.
What memories does this tournament evoke?
It's amazing to think its been 25 years. Obviously at the golf course everything has changed but the town is the same. Overall, Evian is Evian and it's always been a beautiful place. The course has changed beyond all recognition.
This year they have changed a par five to a par four and a par five to a par four, but nothing has really changed, just on different tees. It won't make any difference at all, but will be a more exciting finish, which is good.
What are your expectations this week?
The way this year has gone, very low. It's a place I love, so hopefully I'll putt well. I've putted so poorly the last six or seven tournaments, it's been ridiculous and if you don't putt well, you've got absolutely no chance. I'll try to make the cut and then have a good weekend after that.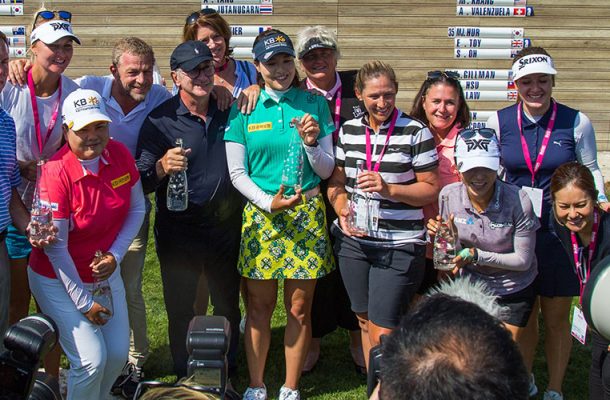 Above: Laura and the past champions surprise with tournament chairman Franck Riboud after surprising him with a shower of Evian water
You famously watched a football match on the course on your way to winning in 1996. Can you tell us more about that?
That was England playing in the Euro '96 against Spain. I had a five shot lead and had the TV out there with me and probably shouldn't have done it, but I wanted to watch England play. For some reason we finished on the ninth, so there wasn't a large gallery at all and there was hardly anyone there, which is why we had the TV out for the back nine. I don't remember if it was bad weather, but I don't regret it.
Have you played in all of the charity football matches and what are your fondest memories?
I have played in all of them. I'm not going to play in the football match this year because I've had my achilles troubles and they are now perfect, so I don't want to mess them up again. I've had some great times playing against Zinedine Zidane, Lizarazu, Laurent Blanc and Robert Pirez. There have been so many great French internationals, friends of Franck and Jacques whom have played over the years.
Is this amongst your favourite tournaments?
It's one that I would hate to miss. I'm so glad I won it all those years ago, because it would be such a shame to miss out on playing in the Evian Championship. It's worthy of it's major status. They have done so much to the course, they look after the players so well and the tented village is world class. Everything about it is world class and I'm glad it's a major because they deserve it.