Europe and American shared the spoils during the opening fourball matches at the 2015 PING Junior Solheim Cup at St Leon-Rot in Germany.
The two teams produced some spectacular golf as they shared the series will now move into the afternoon foursomes tied at 3-3.
Megan Khang and Mariel Galdiano produced the first point of the morning for the Americans when they defeated Marta Perez Sanmartin and Maria Parra by 3 & 2. The Spanish duo were one up through the first three holes but found themselves one down at the turn before the Americans sealed victory with a superb run of six birdies over the closing seven holes.
Switzerland's Albane Valenzuela and France's Mathilda Cappeliez brought the scores back to level when they birdied four of the last five holes to beat Andrea Lee and Angel Lin by two holes and low scoring was also the order of the of the day as Austria's Emma Spitz and Ireland's Olivia Mehaffey were a remarkable ten under par for the first 16 holes but still only managed to beat Mika Liu and Haley Moore on the final green.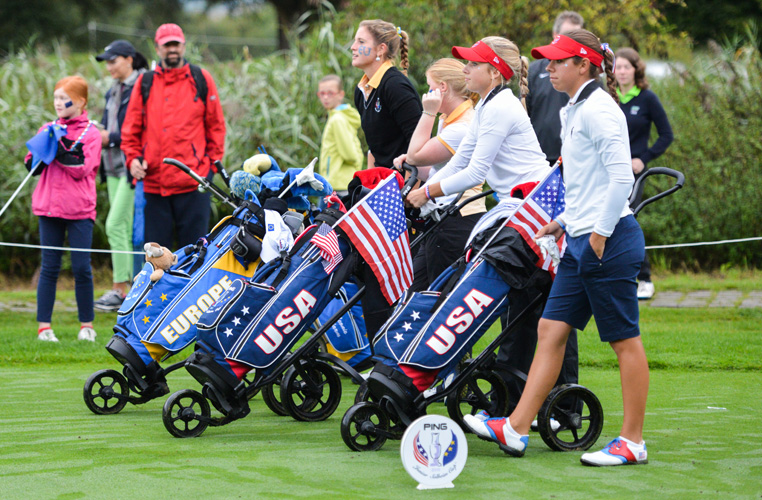 Sweden's Elin Esborn and Norway's Sandra Nordaas were next to finish when they extended Europe's lead with a 2 & 1 victory over Kaitlyn Papp and Hailee Cooper but Hannah O'Sullivan and Nelly Korda pulled a point back for the Americans with a 3 & 2 victory over France's Agathe Laisne and Spain's Ana Palaez before Sierra Brooks and Kristen Gillman squared the series with a hard-fought two hole victory over Germany's Leonie Harm and Puk Lyng Thomsen from Denmark.
The PING Junior Solheim Cup continues this afternoon with six foursomes before concluding tomorrow with twelve singles matches.
European captain Iben Tinning has retained all six of the partnerships used in the fourballs but has changed the order in which they go out.
In the first game Marta Perez Sanmartin and Maria Parra team up against Kristen Gillman and Kaitlyn Papp. Albane Valenzuela and Mathilda Cappeliez play Nelly Korda and Megan Khang and Elin Esborn and Sandra Nordaas come up against Mariel Galdiano and Haley Moore. Further down the list Emma Spitz and Olivia Mehaffey play Mika Liu and Hailee Cooper, Leonie Harm and Puk Lyn Thomsen resume their partnership against Hannah O'Sullivan and Angel Yin and Ana Pelaez and Agathe Laisne bring up the rear against Andrea Lea and Sierra Brooks.
The running order of the foursomes marches is subject to change.