Team Europe held a slim one point lead over the United States after the opening Solheim Cup foursomes at Des Moines Golf and Country Club in Iowa after a tense morning when three of the four matches went to the 18th hole.
In the first match, Mel Reid hit the first tee shot for Europe and together with Charley Hull halved with Cristie Kerr and Lexi Thompson, the world number two.
The Americans got off to a quick start, with Lexi Thompson's bomb of a tee shot with her 3-wood at the driveable par-4 first hole leading to a Cristie Kerr birdie from 12 feet that immediately electrified the Des Moines crowd. The Europeans battled back to take the first lead at the par-5 fifth, where Kerr was forced to make a scary punch-out from behind a tree and a nice approach from Mel Reid led to a winning birdie from Hull.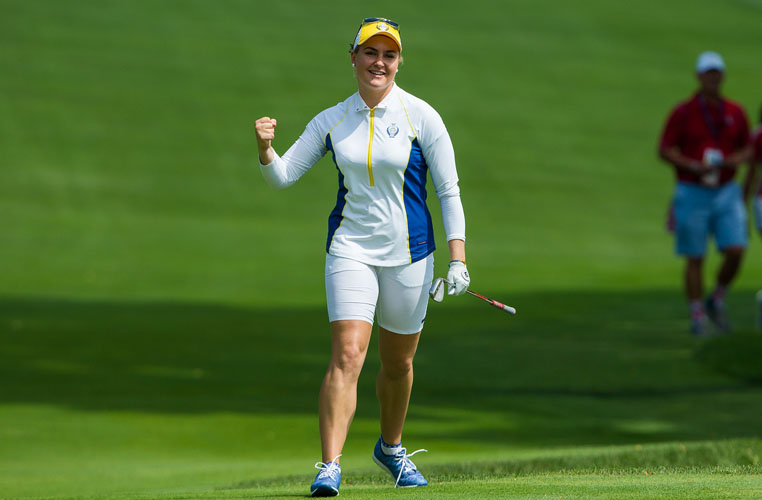 The Europeans extended their lead to 2 up through 16 when Hull converted a masterful chip-in for birdie at the par-4 16th. But Team USA took the 17th with a par from Thompson, and in her signature style, Kerr walked in her birdie at the 18th to secure the halved point.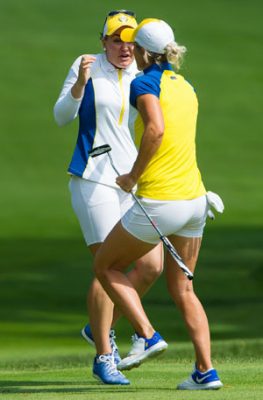 "We made a huge par on 17, and sometimes all you need in this format is just a little bit of momentum," said Kerr. "And then we played a perfect hole on 18 to get the halve and it was very necessary."
Hull said: "Lexi hit a good shot into the last and Cristie made a good putt, but it was an up-and-down round today, really back and forth, so a halve is not too bad. It's not a loss."
In the second match, the KPMG Women's PGA Championship winner Danielle Kang and Lizette Salas defeated Carlota Ciganda and Caroline Masson, 1 up. Kang, a Cup rookie and recent Major champion, pumped up the crowd for her first shot as a Solheim Cup player. Kang and Lizette Salas rode that momentum to a winning birdie at the first hole. Another birdie, this time from Salas, at No. 5 extended the American advance to 2 up over Carlota Ciganda and Caroline Masson.
The Europeans stayed close, with Masson's 20-foot birdie at No. 11 cutting the American lead to 1 up. At the par-3 14th, Salas' tee shot went over the hole and they could not convert the up and down.
With the match now all square, Europe found trouble off the 15th tee and needed a TV crane moved to hit their second shot. Ciganda eventually power-lipped out a short par attempt and the USA regained a 1-up lead. Salas' superb chip from the right rough at the par-4 16th led to Kang's hole-winning 4-foot birdie putt. That putt turned out to be the winning shot, as although the Europeans won the 17th to take the match to No. 18, Kang holed another putt from eight feet and the Americans ultimately prevailed, 1 up.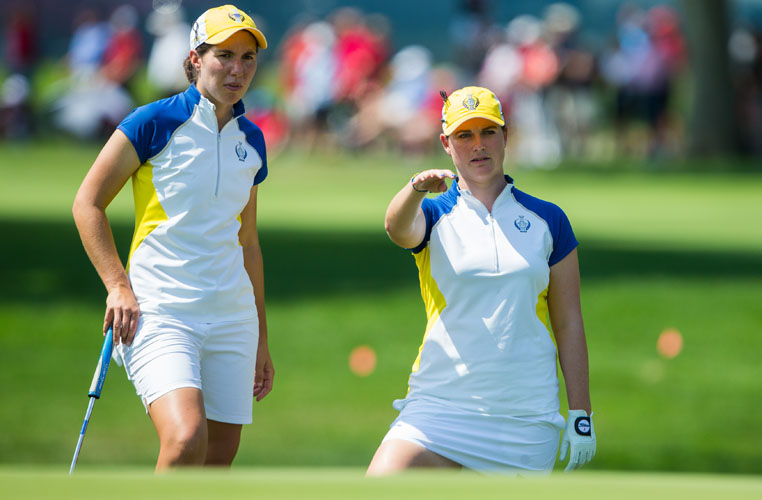 In the third match, the experienced Anna Nordqvist and Cup rookie Georgia Hall never trailed as they defeated Paula Creamer and Austin Ernst, 3 and 1.
The European side took the early lead when the Americans bogeyed the par-4 second hole. Nordqvist and Hall extended the advantage to 2 up on several occasions, although Creamer and Ernst kept the match close through 15 holes.
At the par-4 16th, Creamer's tee shot found the gallery and led to bogey and when the Americans could not convert par at No. 17, they conceded the European par and victory.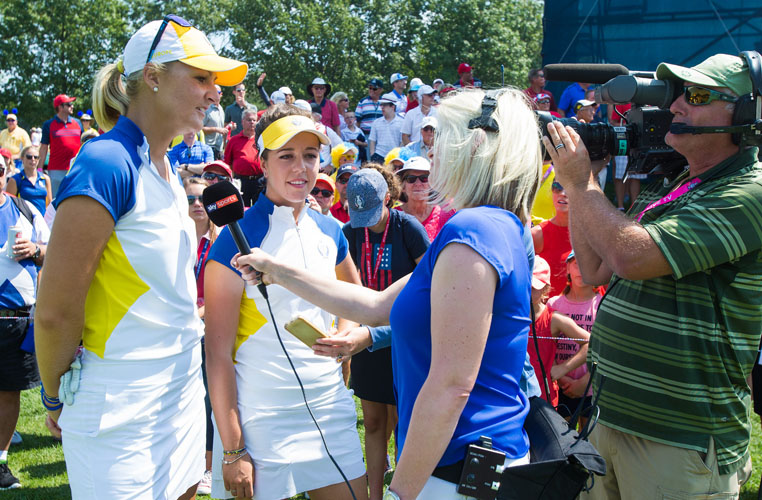 "Georgia is a rookie but she certainly didn't play like one," said Nordqvist. "I'm very happy to be her partner today. She played great and made a few putts in there, too. I feel like we had a really good morning and excited to be here, and just can't beat this atmosphere."
Hall said that the experience of winning her first Solheim Cup point more than lived up to her expectations.
"Anna is a fantastic partner. I couldn't wish for anybody better. She holed some great putts, especially back nine in our match, and I kind of made a few putts in the first nine., so I think we went really well and I'm delighted."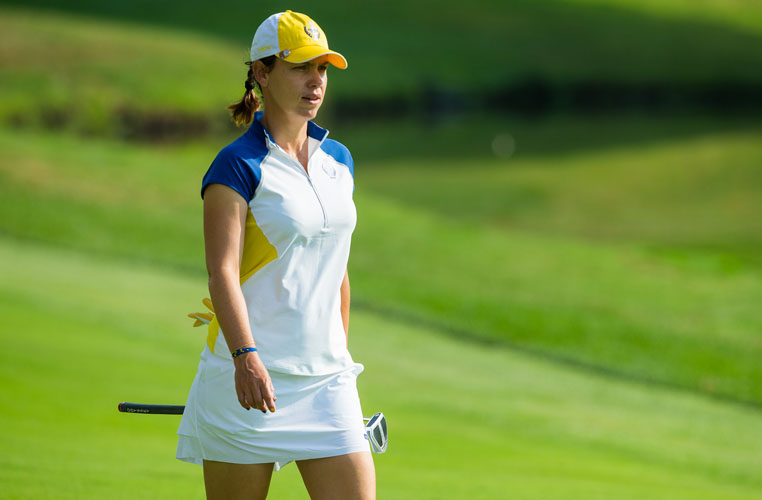 In the fourth match, Karine Icher and Catriona Matthew took a huge point against Stacy Lewis and Gerina Piller. The American duo held a 2-up advantage over Karine Icher and Catriona Matthew through 12 holes, but the match quickly turned thanks to Icher's hot putting hand. Her 40-footer for birdie at No. 13 cut the American lead to 1 up, and another Icher birdie at No. 14 squared the match. The Europeans took their first lead at the 16th hole, when Icher made a short par putt and Lewis and Piller both missed their putts. Finally, on 18, Lewis blasted her 30-foot birdie 8 feet past the hole, and Piller's comeback attempt came up just short.
"It was a tough game at the beginning; they gave nothing," said Icher. "They played great. They are both really, really good players. So obviously it's not easy to beat them. We're not the favourites. But the door opened on 13 and 14, and we took it. It's a great feeling now."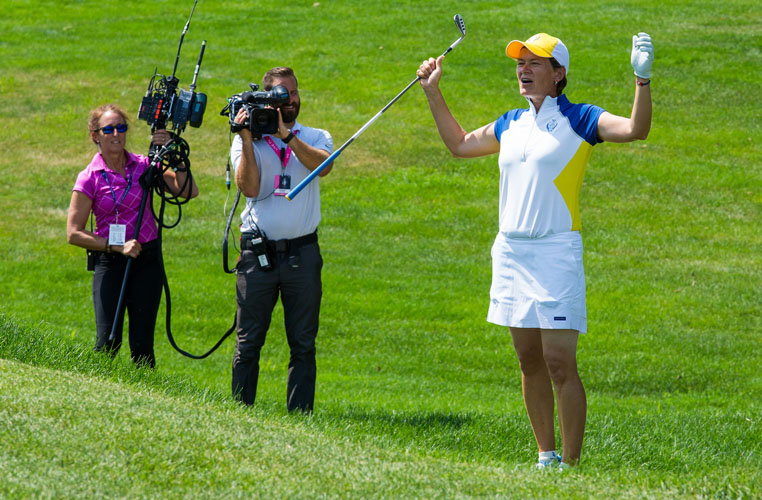 Matthew admitted: "I was shaking like a leaf on the first green. I managed to hole a putt. But I don't think it matters how many you've played in, you're still nervous. But you soon settle down and… I had a great partner.
"If Gerina had holed that putt, it would have been a whole different story and we would have felt like we maybe lost half a point there. So obviously we go in with some big momentum and it gets them fired up for this afternoon."
Friday Morning Foursomes Results
Match 1
8.10am Melissa Reid and Charley Hull (EUR) halved with Cristie Kerr and Lexi Thompson (USA)
Match 2
8.22am Carlota Ciganda and Caroline Masson (EUR) were defeated by Danielle Kang and Lizette Salas (USA) 1up
Match 3
8.34am Georgia Hall and Anna Nordqvist (EUR) defeated Paula Creamer and Austin Ernst (USA) 3&1
Match 4
8.46am Karine Icher and Catriona Matthew (EUR) defeated Stacy Lewis and Gerina Piller (USA) 1 up
Result: Europe 2 ½ USA 1 ½
Friday Afternoon Four Ball Pairings
Match 5
1:20 p.m. – Madelene Sagstrom and Jodi Ewart Shadoff (EUR) v. Michelle Wie and Danielle Kang (USA)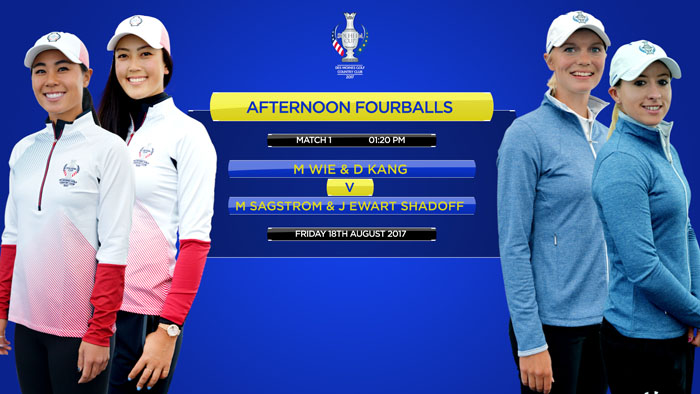 Match 6
1:35 p.m. – Carlota Ciganda and Emily Pedersen (EUR) v. Angel Yin and Lizette Salas (USA)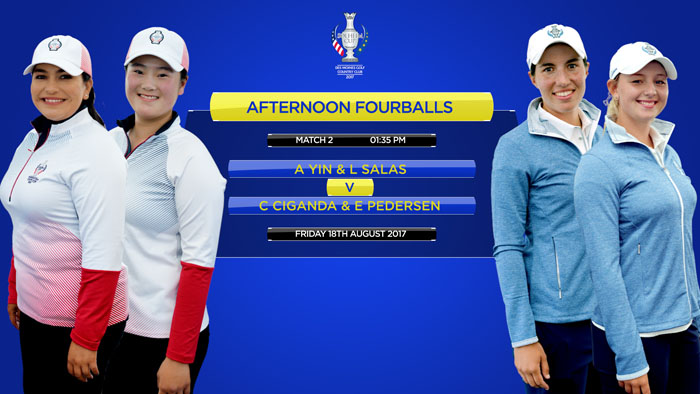 Match 7
1:50 p.m. – Florentyna Parker and Caroline Masson (EUR) v. Brittany Lincicome and Brittany Lang (USA)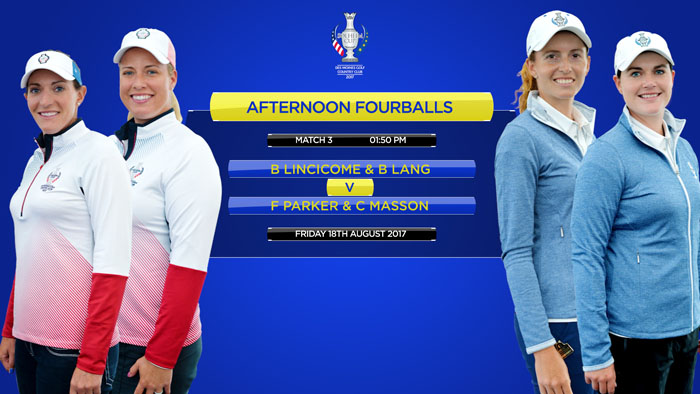 Match 8
2:05 p.m. – Charley Hull and Georgia Hall (EUR) v. Stacy Lewis and Gerina Piller (USA)