As the Ladies European Tour (LET) players make their preparations for the Fatima Bint Mubarak Ladies Open at the stunning Saadiyat Beach Golf Club, they are also aware of the need to help with the efforts being made by the Abu Dhabi Sports Council and the Fatima Bint Mubarak Ladies Sports Academy to develop women's golf in the region.
The event organisers, working with a number of partners, have prepared a comprehensive programme of development activities that is being supported by around 20 of the LET players as well as 2017 Solheim Cup Captain, Annika Sörenstam.
It was Annika who launched the programme on Monday by making the short journey to the Abu Dhabi City Golf Club where she entertained and inspired over 50 children from the British School Al Khubairat, Emirates National School and the club's own junior programme. During the clinic, she spoke about her experiences in the sport, gave plenty of useful tips and demonstrated some of her impressive shot-making. She also stressed to the children the importance of practising and having a positive attitude. She was joined by Sana Tufail who had started her golf at Abu Dhabi City Golf Club and is now improving her game at college in America.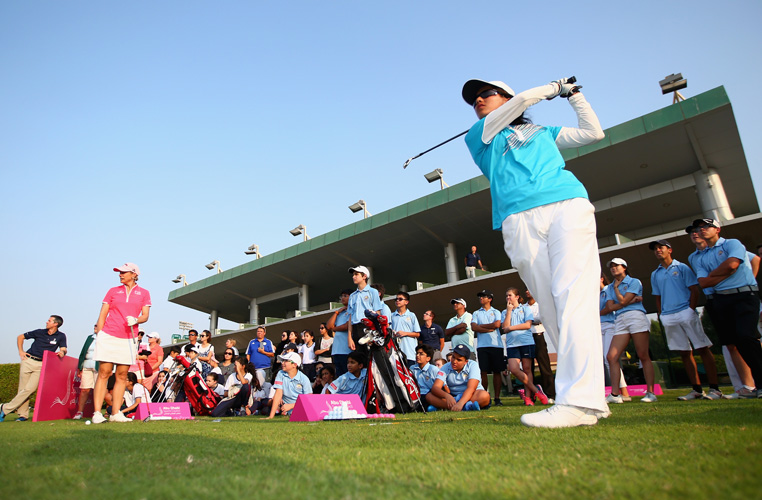 Through the week at the Saadiyat Beach Golf Club, LET players have willingly agreed to take some time away from their practise to support the development programme and inspire people from the local communities. They will meet some of the children based at Saadiyat Beach and groups of women from the Fatima Bint Mubarak Academy's Golf for Ladies programme. The Q&A sessions will give both beginners and more experienced golfers the opportunity to ask the LET players questions and learn from them.
The event's development programme will also include a Stretching Class at the LET Hub in the tented village delivered by local Health Wellness & Performance Coach, Claudine Foong.
David Collins from the event promoter, Wasserman, said: "At the pre-event press conference, we heard the Technical Affairs Director at Abu Dhabi Sports Council, Talal Al Hashemi, talk about the work being done through the event to raise the profile of golf for women and attract more Emirati women to the game. The development programme at this event is a key part of that strategy, so we're really grateful to the players for getting behind the various activities we've organised."
Mike Round, the LET's Director of Development, said: "I must congratulate all those involved in putting such a comprehensive programme together. This is a great example of how professional sports events and professional players can be used to help to inspire more children and women to take up the game."