Recent Pacific Bay Resort Australian Ladies Classic champion Marianne Skarpnord feels motivated to win again with fiancé Richard Green on caddie duties for this week's Women's New South Wales Open, presented by Worrells.
Green played on the European Tour for 21 years and has featured in the top 30 in the world.
Skarpnord, the Ladies European Tour order of merit leader who claimed her fourth title a fortnight ago, tied for 24th in the ActewAGL Canberra Classic last week, but admits that she was running low on motivation after her victory at Bonville.
"I feel better this week. I feel that I'll be on the first tee on Thursday to win again. I'm not just here to play four rounds of golf," said the 33-year-old Norwegian at Queanbeyan Golf Club on Tuesday, where she will be the star attraction.
"I've got the super caddie on the bag this week, so hopefully we can do a bit better. Having Richard on the bag, he's going to push me a bit too, so I think that's going to be pretty good. I just need to hit it straight off the tee, because there are a lot of trees here."
Skarpnord and Green enjoyed a rare golfing fairy tale four years ago when they claimed twin Victorian Open titles at 13th Beach, where they share a home. Green, a three-time winner on the European Tour and double winner on the PGA Tour of Australasia, has carried Skarpnord's bag on several occasions since, including at the 2016 Olympic Games in Rio.
The Australian says he enjoys the job. "It's a different perspective caddying than it is playing. You get to see how players behave and how I would have behaved on the golf course as well. It's fun and I've been enjoying it since having to obey to the three golden rules of caddying: turn up, keep up and shut up."
Green will turn 50 in two years and says that playing on the Champions Tour is his long-term goal. He said: "I'm kind of hoping that Marianne gets on the LPGA, I get on the seniors tour and we live happily ever after."
In the shorter-term, he would love to get an invitation to play in the Jordan Mixed Open in April, an innovative mixed gender event, featuring 40 players from each of the Seniors Tour, Challenge Tour and Ladies European Tour.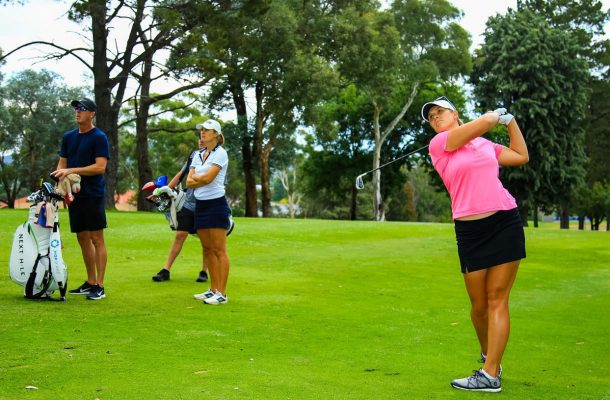 The first-of-its kind stroke play event will feature a level playing field and reward one overall champion, meaning that team Skarpnord-Green would become rivals on the course.
For now, Skarpnord will be the one with her eyes on the trophy when the action tees off at Queanbeyan  at 7.30am local time on Thursday.