The new LET No.1 Nuria Iturrios from Spain and first year professional Esther Henseleit from Germany, who leads the LET's Rookie of the Year Rankings, share the clubhouse lead on nine-under-par midway through round two of the Omega Dubai Moonlight Classic, after rounds of 68 and 66 over the Faldo Course at Emirates Golf Club this morning.
They are one stroke clear of Germany's Olivia Cowan, with overnight leader Leona Maguire from Ireland three strokes further back after a second round of 75 played under glaring sunshine.
Henseleit, 20, from Hamburg, who turned professional with a handicap of +7.1 in January after finishing third at Tour School, was eight-under-par after 16 holes, but double bogeyed the par-3 17th after finding the right hand greenside bunker and three-putting.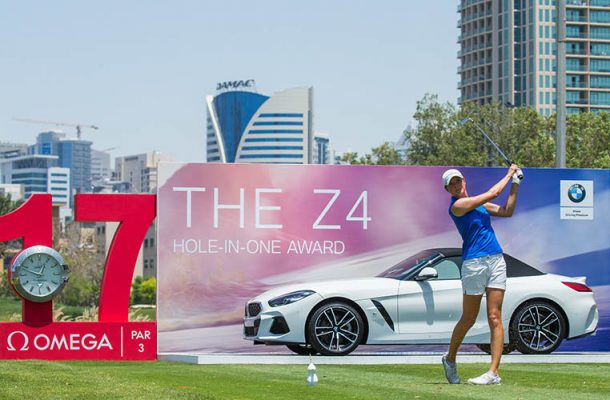 The exciting young talent is sixth on the LET order of merit after four top-10 finishes from five starts already this season, including a tie for third in the Investec South African Women's Open and a tie for fourth in last week's Lalla Meryem Cup in Morocco.
The 2017 PING Junior Solheim Cup player now has the chance to win her first professional title in only her sixth tournament and said: "It would mean everything. I think everyone wants to win and to do this in your first year is really good, but there is still one day to go and I'm not thinking of the win. I want to do my best and see what happens tomorrow."
Henseleit says that she is obsessed with other sports, including tennis, skiing and going to the gym. Alongside her burgeoning golf career, she is studying Sports Management at the IST-School of Management, a distance learning university.
Paying her first visit to Dubai, she enjoyed playing under the floodlights during her first round on Wednesday evening, saying: "It was pretty cool. It was really nice to play in the dark without the sun and it was fun."
Iturrios, who claimed her second Lalla Meryem Cup title inside four years last week to go to the top of the order of merit, also enjoyed the experience of playing in the world's first day-night golf tournament.
The 23-year-old from Palma de Mallorca said: "It was so cool yesterday and I loved it. It's so weird, it was my first time playing at night. I just trusted in my game and I trusted where the ball went, so I'll keep going."
On her chances of earning consecutive titles, she added: "It would be awesome, of course, but there's still 18 holes to play and you never know. It's golf, so I want to enjoy it."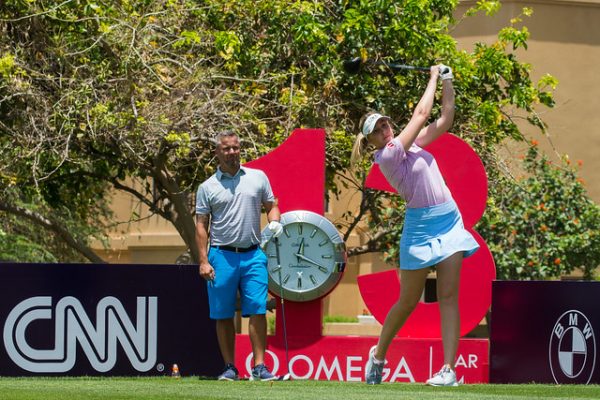 Cowan, 23, from Hamburg, who had four birdies in her second round 70, said that it was very different playing in the day time, from the night: "It was really hot today, so it was a bit different from yesterday. I played really well, again. I made a few stupid mistakes, which cost me a bit, but otherwise I'm happy with the day.
"Yesterday was a lot cooler and it's probably better to start in the afternoon, actually, because the first hour, it's quite hot, but then it cools down pretty quickly. Today it was really hot from 8.30am in the morning, but it was a really nice day.
"It would mean the world (to win). It would be amazing. I've been close a few times and I'm just waiting for that one little step. It would be amazing, here in Dubai, with my sponsors."
Maguire is still in the hunt, despite her bogey at the 17th and double on hole seven. She said: "I didn't give myself many chances today. On seven, I wanted to hit 7-wood, my caddie wanted me to hit an iron and I hit an iron in the water, which was quite annoying to finish with. I didn't give myself enough chances and didn't hole any putts, so no birdies today. I need to play a lot better tomorrow and hit my irons better to give myself some more chances."
With the evening wave's play under way, Karolin Lampert was the best placed at six-under-par after 10 holes, with Noora Komulainen on five-under-par after the same number.