There's a new LET Order of Merit leader heading into the Omega Dubai Moonlight Classic. Nuria Iturrios marked herself out as an early favourite by winning the Lalla Meryem Cup in Morocco for the second time in four years on Sunday to move to the top of the LET rankings.
The 23-year-old Spaniard flew into the UAE straight from Rabat on Sunday evening and now hopes to celebrate with another victory in Dubai.
"I didn't have time to celebrate but I spoke with my mum and my friends. I'm so happy to be here and I'll celebrate in Dubai this week," she said.
"This is another tournament and another week and another experience for me. I just want to enjoy it. I saw some great pictures of the course under the lights and I think it's going to be fun. I think we are all going to enjoy it. It would be fun to win again."
Iturrios brings impressive form to the Faldo Course at Emirates Golf Club. The Palma de Mallorca pro was the only player in the field to post four sub-par rounds over the Blue Course at Royal Golf Dar Es Salam last week, with a driving accuracy of an 84 per cent. She hit 74 per cent of greens in regulation to post 18 birdies and earn a winning total of 13-under-par.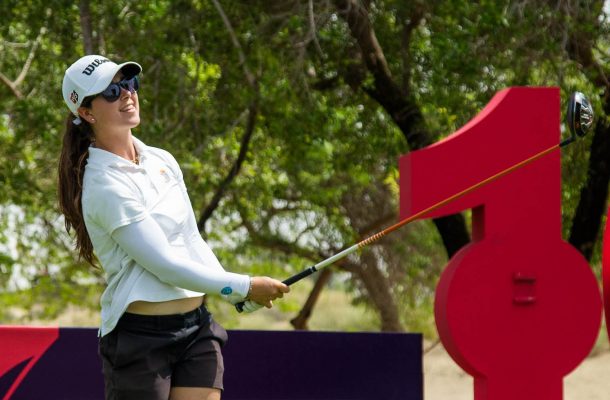 She said: "I worked really hard in the off-season, so my game is really solid now. My putting is so good. The chipping is good too, so I just want to enjoy it and keep calm."
The fourth season LET member predicted that the winning score in the inaugural event on the Faldo course this week could be 13-over or 14-under again, but this time, over three rounds.
"The par 5s are easy to reach in two, so that's great for me: I really like that," said Iturrios, who so far this year has averaged 248 yards from the tee on the official LET stats, although she says she usually hits her driver around 260 metres, which is the approximate length of the 13th hole.
"There is one short par 4, the 13th, which I can reach in one shot and the par 3s are interesting because they are not that long, but these greens are difficult, because there are a lot of breaks. I think we had a good training for that last week in Morocco, where the greens were sloping and tricky too. There are some breaks which you can't see from the fairway, so you have to have a good strategy."
Iturrios, who had her coach on the bag both times she won in Morocco, will not take a caddie this week, but says she feels confident in her abilities and the yardage book will be her best friend.
Now ranked ninth on the European Solheim Cup points list, Iturrios will be aiming to advance up the rankings with another strong finish in Dubai this week, but said that Solheim Cup qualification is a long-term goal.
"I'm only 23 years old, so if it happens this year, it's going to be great, but if not, it will be a goal for the next few years," she said.