China's Xi Yu Lin already boasts an impressive 33 per cent success rate at the Sanya Ladies Open, having won the last two of the previous six competitions at Yalong Bay Golf Club in Hainan. Now the 20-year-old Olympian from Guangzhou has the unprecedented opportunity to become the first player to win the tournament three times, in succession, at a venue where she played in the inaugural event in 2010 as a 14-year-old amateur and has never finished outside the top 10.
"I really feel time flies. My first year here was in 2010 and now it's the seventh year," said Lin, speaking from the practise green on Wednesday. "I feel really good coming back here because I know everything and everybody here and they are very nice to me. It's close to my home town and similar weather. I've done pretty well here so I'm looking forward to it."
In 2014, Lin won by five strokes on 14-under-par after rounds of 68, 67 and 67. Last year, she started the last day four strokes back but fired a final round of seven under par 65 in scorching conditions to successfully defend with a 54-hole total of 13-under-par and a two stroke margin of victory over compatriot Yan Jing.
Although she's been struggling with her long game since the Olympic Games in Rio, Lin feels confident that she has the skills to successfully three-peat. She said: "This week, I will try to do my best and I know I can shoot a very low score here. It gives me lots of confidence, but I don't have to push myself too hard; just try to get more birdies every day."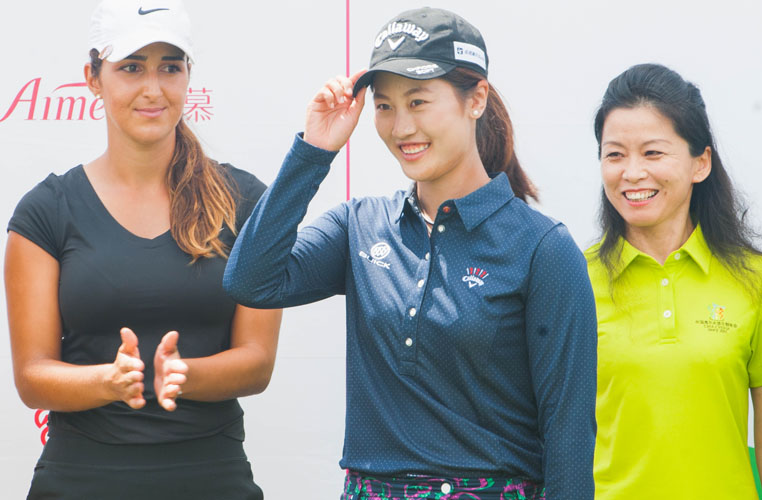 Lin's status in China has soared since she recorded an historic hole-in-one in the third round of the first women's Olympic golf competition in more than 100 years at Rio 2016 and reflecting on the Games, she said: "It was a really cool experience and great to have a hole-in-one. I mean, this year, me and Shanshan did well as she won a bronze medal and I had a hole-in-one. I didn't do as well as I would have liked and was a little disappointed because I think I could have done better, but when I got back to China, everyone was really excited about it. Even people that don't play golf think that having a hole-in-one is really cool, so my social media had lots of people saying 'You're super lucky' and I'm glad that I made people in China know golf better."
A proud role model to a new generation of golfers, Lin is also pleased to see the progress and development of Chinese golf and added: "Now the China Golf Association are doing lots of junior programmes and Yalong Bay Golf Club has been doing lots of teenager summer camps and programmes for the younger generations. What they have been doing is great and if I get the chance, I would love to share my experience with them."
Lin is one of 23 Chinese players in the field of 126 competitors and is due begin her title defence at 12:15 on Thursday, playing alongside Gwladys Nocera and Vani Kapoor under sunny skies and in temperatures of 30C.