By Lali Stander
Birdies at the 15th and 17th holes at Westlake Golf Club helped Sweden's Isabella Deilert swoop into the field for this week's Investec South African Women's Open, co-sanctioned by the Sunshine Ladies Tour and Ladies European Tour (LET).
A heavy downpour early morning caused an hour delay to the start of the qualifying round and throughout the day, the 20-strong player field was tormented by a cold wind and unrelenting, sweeping rain.
Deilert, who has an equally blustery start in her South African debut in the Cape Town Ladies Open at Royal Cape last week, was upbeat about the conditions after she navigated the par-72 Parklands layout in 74 strokes.
"It could have been worse; it could have been snowing and the temperature could have been below freezing. This wasn't too bad," joked the Stockholm native.
"Jokes aside, it was tough out there, but I handled myself well. It was tough to see the lines on the greens on the front nine and to find the right pace. I was three-over after nine, but I started to attack the pins on the last nine holes. I hit it closer and more putts began to drop.
"I only arrived in South Africa last week and I never expected to be playing in a LET event. I'm over the moon that I've made the tournament."
Akasia rookie Lenanda van der Watt was another happy camper.
The reigning South African Long Drive champion roped in seasoned professional Bonita Bredenhann to pull the trolley and impart some wisdom and the combination of the two longest hitters on the Sunshine Ladies Tour worked a charm.
The Namibian steered Van der Watt to a tie for second on three-over with Sweden's Annelie Sjoholm and Tiia Koivisto from Finland, who tied for fourth in her Sunshine Ladies Tour debut at Royal Cape last Friday.
The happiest faces, however, were those of French golfer Julie Berton, Emma Westin from Sweden and the South African amateur duo Symone Henriques and Tara Griebenow, whose rounds of 80 netted the quartet the final four spots into the main event.
"I'm so, so happy," said GolfRSA Elite Squad player Henriques from Glenvista.
"That was without a doubt the toughest round of my life. At times on the front nine, we battled to see the flagsticks in the rain. I just kept on grinding, but I didn't think that I had done enough.
"I'm really excited to tee it up on Thursday. It's such an honour to play in our national open and I think this is going to be huge learning curve for us. Hopefully the game keeps on improving and I make the cut on Friday. I would love to challenge for amateur trophy this weekend."
The Investec South African Women's Open, boasting a purse of R2-million, tees off from 14-16 March with Ashleigh Buhai in title defence.
Buhai and three-time champion Lee-Anne Pace will spearhead the local challenge alongside last year's Investec Property Fund Order of Merit winner Stacy Bregman, the current leader Nobuhle Dlamini and Lejan Lewthwaite, who is heading home after a top 10 finish in her Ladies European Tour debut in the Women's NSW Open on Sunday.
Former Order of Merit winner Becky Brewerton from England heads up the 64-strong LET field.
Past LET champions Florentyna Parker and Megan MacLaren from England and French duo Astrid Vayson de Pradenne and Camille Chevalier are also among this year's participants, as is Karolin Lampert from Germany and India's Maha Haddioui, who finished second and third respectively in last year's championship.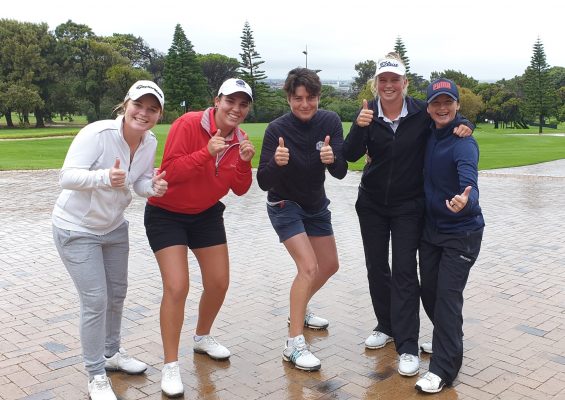 QUALIFYING ROUND RESULT
74 Isabella Deilert SWE
75 Lenanda van der Watt; Annelie Sjoholm SWE; Tiia Koivisto FIN
76 Caroline Rominger SUI
77 Charlotte Austwick ENG
78 Megan Streicher (AMA)
79 Moa Folke SWE; Nina Grey (AMA)
80 Emma Westin SWE; Tara Griebenow (AMA); Julie Berton FRA; Symone Henriques (AMA)
Missed cut
82 Jessica Dreesbeimdieke NAM
84 Vicki Traut (AMA); Katia Shaff (AMA)
87 Bianca Wernich (AMA)
88 Lynette Fourie
89 Kim de Klerk (AMA)
90 Shanice de Gee (AMA)
WDN Jenny Havenga (AMA)