Belgium's Manon de Roey will have to wait another year to make her Olympic debut following the news that Tokyo 2020 has been postponed.
However, the 28-year-old from Schilde is determined to use the coming months to build on her recent successes and be in an even better position when the Games are played from late July in 2021.
Manon, ranked second on the LET's Race To Costa Del Sol after three top 10s in the Geoff King Motors Australian Ladies Classic Bonville, Women's New South Wales Open and Investec South African Women's Open, is reminded of her goal every day. Due to the Olympic golf competition, she is one of a only a few players granted a special exemption by Sport Vlaanderen to play during the current Covid-19 lockdown.
"They gave me an exemption, so I can still go to practise every day," said Manon, who plays at Rinkven Golf Club in Gravenwezel, formerly home to the Belfius Ladies Open on the LET Access Series.
"Of course I was very sad to hear the news about the Olympics being postponed, but considering the situation and that health is more important, I understand the decision. I felt like I was ready for it and I was very excited. I can wait a year longer and I will be back stronger next year."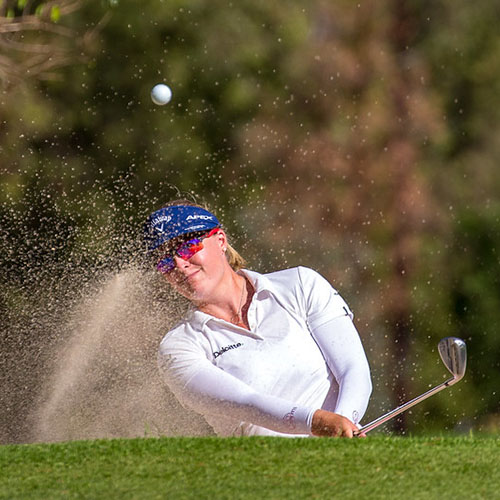 Manon is a three-time winner on the LET Access Series, at the 2018 and 2019 WPGA International Challenge and the 2019 Santander Golf Tour LETAS Valencia.
Now in her third season on the LET, her results have consistently improved year by year and she recorded a career-best runner-up finish in the Women's New South Wales Open at Dubbo Golf Club last month, where she fired a career-low 64.
The second longest driver on tour attributes her improvements to work with her coach Michel van Meerbek, who also coaches European Tour players Nicolas Colsaerts and Thomas Detry.
"I switched coaches two years ago and I swing more efficiently now and it's a combination of that and physical training," she said.
"I work on very specific exercises for golf, using the right muscles in a chain and it's quite complicated and tough, actually!
"I am doing my physical training through video chat at present, because I can't see my coaches. We aren't allowed to see anyone so we have to use technology.
"I've seen my coach twice this week and I do some exercises myself on the other days.  I've been sore every day of the week already."
Besides golf, Manon has been completing jigsaw puzzles and mountain biking on woodland trails near her home, which has replaced weekly squash matches with her brother.
"I don't like to practise too much and I'd rather play tournaments, so I'm still practising, but it's not the same. It's hard living with uncertainty," she said.
"I think that everyone needs to realise the threat from the coronavirus is real and stay inside. Together we can solve this. Everyone needs to stick to the rules and I think we will get out of it strong and healthy together."