Mi Jung Hur took advantage of the relatively benign afternoon conditions to post a nine-under-par 62 and moved into a two-stroke lead after a weather-interrupted second day at the Aberdeen Standard Investments Ladies Scottish Open.
The 29-year-old from South Korea posted nine birdies, an eagle and two bogeys at The Renaissance Club, finishing just before play was suspended due to bad light at 9.06pm.
At 14-under-par, the multiple LPGA Tour winner holds a two-stroke lead over Moriya Jutanugarn, with Anne Van Dam and Jeongeun Lee6 tied for third on 10-under-par. The 2017 champion, Mi Hyang Lee, finished on nine-under-par and is tied for fifth with Muni He, after 15 holes.
All six players played in decent weather in the afternoon, while the early starters had been hit by howling wind and driving rain.
"I got a really lucky draw for this week. I had the morning yesterday and afternoon today. I know it was really tough this morning, but sometimes I need luck for those things," said Hur.
Although a few showers passed through, Jutanugarn (66) also recognised that the afternoon starters benefited from the best conditions for a second day.
"I don't want to complain about anything, because it's something you can't control, and also I think I'm pretty lucky as I was in the afternoon today," she said. "It's tough out there and I actually feel bad for the girls, everyone who played in the morning. It was so tough. I think they hung in there and they did a good job."
The long-hitting Dutchwoman Anne Van Dam carded a two-under-par 69 and said: "We got definitely lucky with the weather today, so that was the big thing. As soon as we got out on one, it was sunny, so I thought, it's nicer now, take some advantage of that. My back nine could have been a bit better, but overall it was fine."
England's Laura Davies played in the "horrific" morning conditions and described her three-under-par 68 – the joint best score of the morning with Linda Wessberg – as the second best round of her career.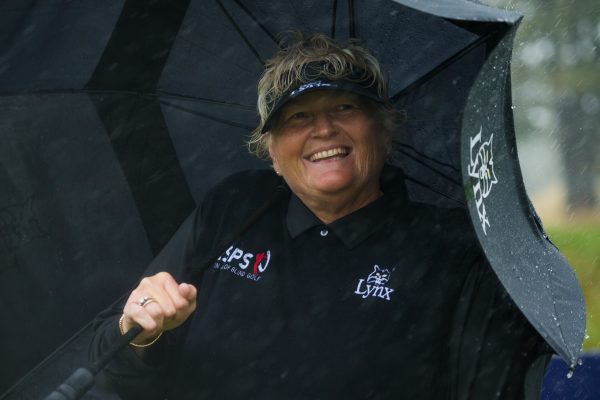 It included her 12th career hole-in-one at the 152 yard fifth hole, where she used a pitching wedge, and she said afterwards: "It's probably the second-best round I've probably ever shot because obviously needed to have a good round to make the cut and I had a 6-under 66 in Canada years ago in similar conditions but that's as close as I can get to it. It was horrific out there.
"The first shot of the day I hit driver and it left me a 4-iron into that 10th and we were hitting wedges the rest of the week and I hit it to about a foot, and a really low one under the wind. It helps if you have the little knock-down shots and I hit probably ten or 12 knock-down shots. I hit two 1-irons into the 4th, 1-iron off the tee and 1-iron into the green. I've never done that before.
"This is my 11th LPGA event of the year and I've missed the first ten cuts. So to make the cut, I know it sounds pathetic at this stage of my career, but I'm really pleased.
"People say, oh, should you give up and commentate, you're a rubbish golfer now, but I still know I can hit shots and play like that. I've just got to do it and prove it, and that's the only thing. But you can only prove to yourself if you hit the good shots, and like I say, today, I don't know how many greens I hit but it was a lot of greens.
"The best shot of the day was the 4-iron into the 10th, which was my first hole, 155, and it was literally howling. Normally 4-iron is 190 and it was a perfectly struck 4-iron, so I would say that's the best shot of the day."
Cajsa Persson of Sweden also made a hole-in-one at the fifth, later in the day, using a 9-iron.