LET member Monique Smit is in week one of a 21-day lockdown in South Africa, but that hasn't stopped her from keeping busy.
In fact, it seems that she and Swiss golf professional Clara Pietri have been able to enjoy the perfect training set-up, with a pitching, putting and long game area installed in the garage, regular HIIT workout sessions and SA Braais.
Smit has even been able to help her fellow LET member with building her clothing brand, 'The Art Of Golf by Clara Pietri – http://the-art-of-golf.ch/' for which she is now an ambassador, along with her other sponsor, Jaguar George.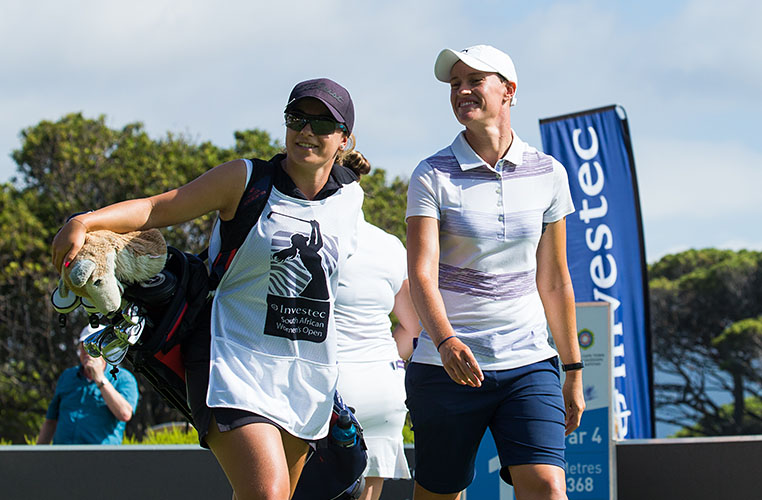 "It's been great that Clara is still here in South Africa, because we've been able to give the days quite a nice structure," said Monique. "We have a Flightscope set up in the garage, so we can still do distance and speed training, 40-yard pitch shots and putting. We've been able to push each other on through fitness and also work on 'The Art of Golf by Clara Pietri'. It's kind of finding ways that we can get the brand out there through new ideas. We found 'The Designer's Hub' in Bangkok and one of our fellow pros on the Asian Tour has recently started her own brand in this way, so we are getting the ball rolling, finding out more and we've been kept very busy in the first six days of lockdown.
"Clara draws the designs freehand on paper and takes a lot of influence from Chinese designs and has also created a tattoo collection, with a Maori tattoo, which looks like a golf ball on a tee. There is also her signature salamander. They are beautiful designs and during the lockdown we've managed to get one or two orders in to produce something unique for women's golf. Clara has already designed some brands for the elite teams in Switzerland and we're excited to see what there is demand for."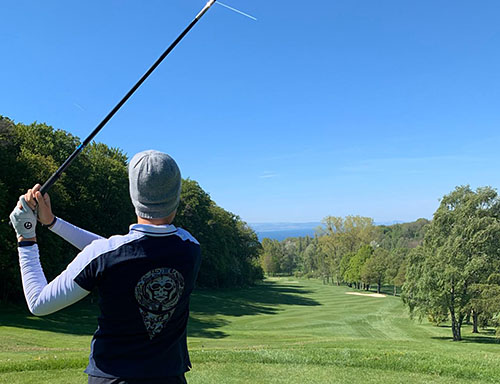 In many ways, the forced break caused by the Covid-19 pandemic couldn't have come at a worse time for Smit, whom less than three weeks ago, achieved a career-best LET finish of joint second in the Investec South African Women's Open at Westlake Golf Club in Cape Town, which enabled her to win the Sunshine Ladies Tour's Investec Order of Merit.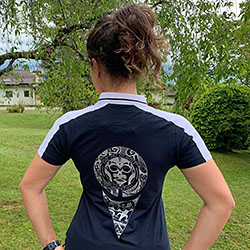 However, she knows a thing or two about patience. The 29-year-old from Herolds Bay, 15km from George, turned professional and joined the LET in 2012 and it has been quite a journey since then.
After playing a season with a provisional LET card in 2012, she took a break from the main tour and played on the Asian Golf Tour for three years from 2013-2015. She then embarked on a three-year training course to become a PGA Professional in 2016, graduating with a first class degree in May 2019.
An ongoing knee injury led to her needing emergency surgery on the eve of the Investec South African Women's Open in 2018, which kept her playing plans on hold, but incredibly, she managed to start walking again and get back onto the golf course seven months later. Her first tournament back, was on the Sunshine Ladies Tour in November 2018.
"I realised I missed golf so, so, much and I thought, maybe my playing days aren't over. I hadn't played in any big events for three years and had been working at Fancourt, so the Global Challenge was where it all started again," she said.
After that, she changed golf coach to Peter Burman and set a goal: to get her card at LET Q-School. She reinstated her membership of the LET Access Series and started in Category 14, with virtually no status, writing to tournament promoters for invitations. Due to her consistent performances, she was able to earn a better category of membership after the re-rank.
"All of a sudden, one or two top tens came through, which was absolutely fantastic, and then my final tournament was due to be in Germany, but I got my visa dates mixed up, so I couldn't play. I came home, which was actually a blessing in disguise, because I could spend more time with my mom, Rejeanne, and what she was battling with, with her cancer. Last year was a year of so many achievements but also of heartbreak, as my mom passed away at the end of November.
"The goals stayed the same: go to Q-School and work towards getting that card. What we were able to do in Spain in January was absolutely incredible and we ticked that one off. Before the Sunshine Ladies Tour started, I had a quick call with Peter and he said, okay, all we need is a goal for Sunshine Ladies Tour. Let's see if we can smash that one. I said, I'd love to win again. That's the only goal that there was."
Almost exactly a month after clinching a four-way play-off to earn the 20th and final card on offer for the 2020 Ladies European Tour season at the final stage of the LET Qualifying School at La Manga Club in Spain, Smit would claim an emotional fourth Sunshine Ladies Tour title.
"To pull off the win at the Joburg Ladies Open and come from seven shots behind to win by one, was incredible. On that final putt, all I could think about was my mom and it was so surreal, because mom always used to caddie for me at Q-School and in all the tournaments, so I actually felt like I played Q-School and Sunshine Ladies Tour with mom on the bag. I would hear her and speak to my mom in my head and say 'Be Brave' and it paid off during that week."
"Looking back on the journey, I'm so pleased I took that time away from golf to do my PGA and get that under my belt, so when I'm out there now, there's no more pressure on making cuts anymore, because I know I have a second income and I have my teaching rights and I can do coaching and club fitting. You have so many avenues in the golf industry and all of them are open to me and it feels like this mountain has been lifted off my shoulders, because the day I decide to not play anymore, I can still provide for myself, which for me, was very, very important."
Back to the present situation, whereby the world of professional golf tournaments is on hold, Smit added: "Of course, for everyone, it's very gutting not to be able to play but if you look at the bigger picture, we are facing a world pandemic so there are bigger things at stake. Our health and safety is the priority and I commend the LET in all their efforts to ensure that these tournaments are only being postponed and not cancelled, as we are seeing on the men's tour.
"We are going to have a very compressed and tight schedule, but in a way, that's great, because it keeps us playing week in and week out. We haven't seen any tournaments being cancelled, which I think is just fantastic. Having the break also gives me time to be home with my dad and work through a couple of things with regard to mom and the admin that needs to be done. In a way, I'm thankful to have this time with my dad to talk about things we haven't been able to talk about and he's been great setting up the indoor studio for practise. Nevertheless, I'm very much looking forward to getting back out there, whenever that may be."
When the season resumes, Smit will start from equal sixth position on the Race to Costa Del Sol Rankings, looking for her best ever year on tour.