Hinako Shibuno holed a gutsy birdie putt from 18 feet on the 72nd hole to claim a one-stroke victory in the AIG Women's British Open at Woburn.
The 20-year-old from Okayama city became the second Japanese player to win a major championship, joining Chako Higuchi, who won the 1977 KPMG Women's PGA Championship 42 years ago; no male Japanese player has won a major championship.
It was her first appearance outside of Japan and she became the second player this decade to win in her first major appearance, joining Hyo Joo Kim, who won the 2014 Evian Championship.
It was a fairytale finish for the player known as "Smiling Cinderella". She smiled all the way around the Marquess course and high fived the gallery from green to tee, even smiling as she hit her second shot into the 18th green. She bowed to the crowd in the grandstand as she approached edge of the green and rammed her birdie putt into the centre of the hole, before punching the air and flashing the smile for which she is known.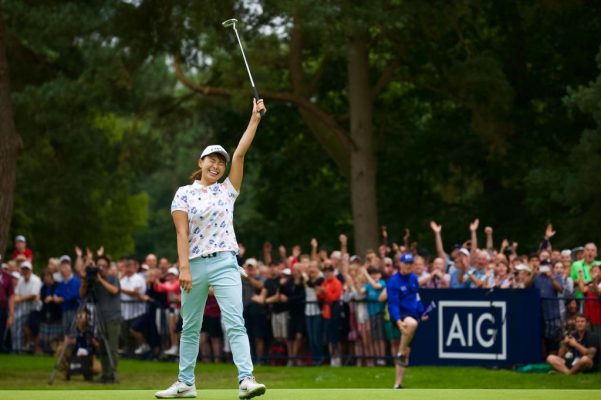 Her 68, for a total of 270, 18-under-par, left her a shot clear of American Lizette Salas, who lipped out from five feet with her birdie attempt on 18 to take outright second after a 65.
World No1 Jin Young Ko, who was looking for her third major title of 2019, was third, her 40-foot birdie putt on 18 coming up just short. American Morgan Pressel bogeyed the 18th after finding the sand with her second shot and splashing out short of the flag.
Ashleigh Buhai, the halfway leader from South Africa, finished fifth after a final round of 70.
She said: "I'm very chuffed. I mean, if you had told me, given me a top five at the beginning of the week, I most can certainly would have taken it.
"Obviously there's some disappointment, having had the lead over two days and being in the mix, but I kind of steadied myself and I thought I played really good on that back nine. Unfortunately hit it in the rough on 16 to make bogey. I left a few putts, but overall I'm obviously very happy."
Celine Boutier from France was sixth, Carlota Ciganda from Spain was seventh and the leading Briton was Woburn member Charley Hull in a tie for 24th. The 2018 champion Georgia Hall and Bronte Law were part of a group tied for 35th.
The leading amateur for the second consecutive year was Atthaya Thitikul, who also won the Ladies European Thailand Championship on the LET for the second time this year.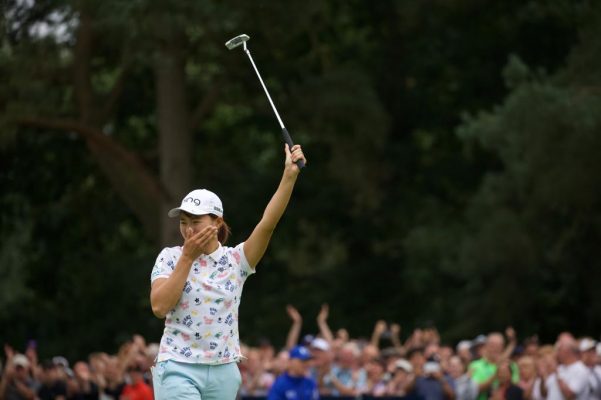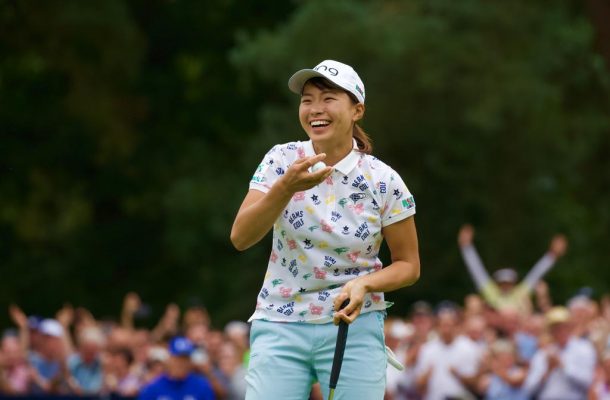 Shibuno, a rookie on the LPGA of Japan Tour who spent 2018 on Japan's developmental Step Up Tour, collected $675,000, (£539,000/€610,443) and won the hearts of fans around the world.
The AIG Women's British Open is her third title this season. In May, she won the World Ladies Championship Salonpas Cup, a major on the JLPGA Tour, and added a second victory in July at the Shiseido Anessa Ladies Open. She started the week ranked 46th on the Rolex Women's World Golf Rankings but was almost unheard of outside Japan.
Buhai, who played with her in the final group on Saturday, added: "She just played amazing, especially yesterday on the back nine, and today on the back nine, she took it on. I think when you're young, I remember being young like that, too, and you're fearless, and she still plays that way, which is how you've got to play. She just gets up and rips it. She did really great.
"She drove it really good, and putting, she's an aggressive putter. I think that's why she made so many putts, as opposed to where I was more dying the putts in. If she missed them, she didn't scare about the one coming back. She had the four-putt on No. 3, but she bounced back really good."
Again on Sunday, Shibuno double bogeyed the third hole but recovered quickly and regained her lead with a birdie on the long seventh. Salas took the advantage after nine holes and again after 15 holes, but Shibuno birdied the 16th to tie for the lead with the 30-year-old American and then grabbed her opportunity at the 18th.
At a press conference after the prize giving, Shibuno revealed how she had been thinking of how she would celebrate by enjoying her favourite Japanese 'sweets' after the round, containing squid and seaweed, so tournament organisers IMG brought her some food to enjoy.
She said afterwards: "I can't really describe with words right now what I'm feeling. I'm also hungry, and a little nauseous at the same time.
"I was looking online and I did see that it's been 42 years since a Japanese player has last won. I do feel that I have accomplished something great, but I really don't know the reason why I was able to accomplish it."
The extrovert added that she enjoys entertaining the spectators. "When I came out here this week, whenever I make eye contact with the spectators and smile, they smile back at me, so I was consciously trying to do that all week.
"In golf, we play in front of spectators, and there are many viewers that watch golf on TV and I want them to enjoy watching golf."
What an introduction to a superb young player, who aside from golf, loves watching YouTube, playing softball and eating sweets.