Team Europe As It Stands
*Rankings updated 14.06.2021
| Player Name | Nationality | Qualification | Points |
| --- | --- | --- | --- |
| Emily Kristine Pedersen | DEN | LET Points | 118.88 |
| Alice Hewson | ENG | LET Points | 70.00 |
| Sophia Popov | GER | Rolex World Rankings | 3.87 |
| Carlota Ciganda | ESP | Rolex World Rankings | 3.21 |
| Mel Reid | ENG | Rolex World Rankings | 2.96 |
| Charley Hull | ENG | Rolex World Rankings | 2.63 |
| TBC | | Captain's Pick | |
| TBC | | Captain's Pick | |
| TBC | | Captain's Pick | |
| TBC | | Captain's Pick | |
| TBC | | Captain's Pick | |
| TBC | | Captain's Pick | |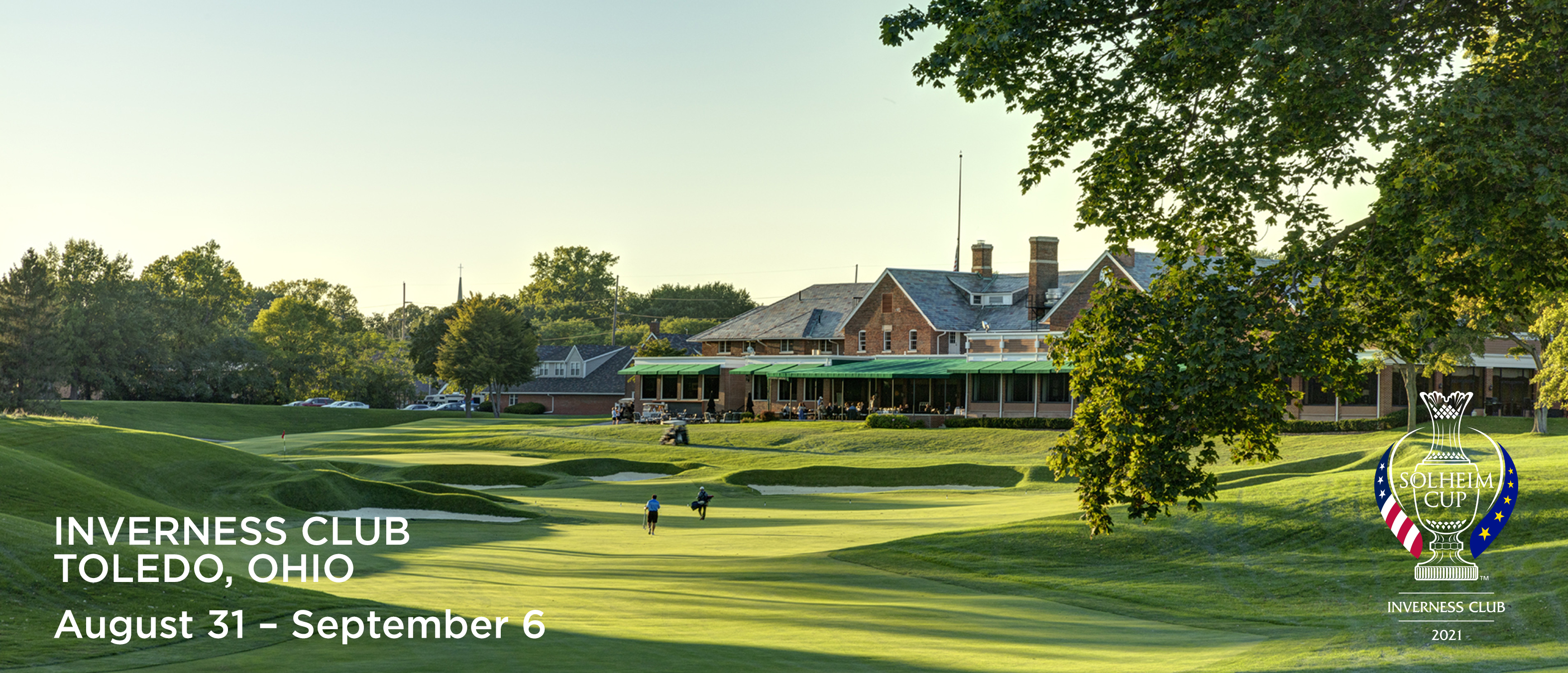 EVENT INFORMATION
The 2021 Solheim Cup will be played Tuesday, August 31 – Monday, September 6 at Inverness Club in Toledo, Ohio.
Looking to book your hotel? Please follow this link.
The schedule of events, special event tickets, parking and rental car information will all be announced in Fall of 2020.
2021 HOSPITALITY OPPORTUNITIES
A tradition like none other continues when the LPGA and Inverness Club, Toledo OH, host the 2021 Solheim Cup.  With fans and sponsors in mind, a variety of hospitality packages have been created that include tickets to specific hospitality venues, grounds ticket access, food & beverage options, parking passes, an up-close experience watching golf history being made on an incredible course, and much more.
For more details on hospitality packages, contact Becky Newell at [email protected]  or Judd Silverman at [email protected].
All volunteers for the Solheim Cup will volunteer for a minimum of three (3) shifts with each shift lasting four (4) hours. Volunteers will not be paid wages or compensated in any other manner in exchange for their volunteer hours. Please keep in mind that there will be no refunds on volunteer payment.
To find out more details and how to register CLICK HERE

Previous Results
| Year | Venue | Winning Team | Score | USA Captain | Europe Captain |
| --- | --- | --- | --- | --- | --- |
| 2019 | Gleneagles, Scotland | EUROPE | 14.5-13.5 | Juli Inkster | Catriona Matthew |
| 2017 | Des Moines Goff and Country Club, lowa, USA | USA | 16.5-11.5 | Juli Inkster | Annika Sorenstam |
| 2015 | Golf Club St. Leon-rot, Germany | USA | 14.5-13.5 | Juli Inkster | Carin Koch |
| 2013 | Colorado Golf Club, Colorado, USA | EUROPE | 18-10 | Meg Mallon | Liselotte Neumann |
| 2011 | Killeen Castle Golf Resort, Ireland | EUROPE | 15-13 | Rosie Jones | Alison Nicholas |
| 2009 | Rich Harvest Farms, Illinois, USA | USA | 16-12 | Beth Daniel | Alison Nicholas |
| 2007 | Halmstad GK, Sweden | USA | 16-12 | Betsy King | Helen Alfredsson |
| 2005 | Crooked Stick Golf Club, indiana, USA | USA | 15.5-12.5 | Nancy Lopez | Catrin Nilsmark |
| 2003 | Barseback Golf & Country Club, Sweden | EUROPE | 17.5-10.5 | Patty Sheehan | Catrin Nilsmark |
| 2002 | Interlachen Country Club, Minnesota, USA | USA | 15.5 -12.5 | Patty Sheehan | Dale Reid |
| 2000 | Loch Lomond Golf Club, Scotland | EUROPE | 14.5 -11.5 | Pat Bradley | Dale Reid |
| 1998 | Muirfield Village, Ohio, USA | USA | 16-12 | Judy Rankin | Pia Nilsson |
| 1996 | St Pierre Golf & Country Club, Wales | USA | 17-11 | Judy Rankin | Mickey Walker |
| 1994 | The Greenbrier, West Virginia, USA | USA | 13-7 | JoAnne Carner | Mickey Walker |
| 1992 | Dalmahoy Country Club, Scotland | EUROPE | 11.5-4.5 | Kathy Whitworth | Mickey Walker |
| 1990 | Lake Nona Golf & Country Club, Florida, USA | USA | 11.5-4.5 | Kathy Whitworth | Mickey Walker |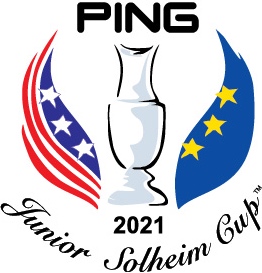 Statement from PING and the LET on 20th May 2021:
In January 2021, we updated the PING Junior Solheim Cup Qualifying System due to the Covid-19 pandemic and the significant impact it has had on the safety and lives of everyone across the world.
PING and the LET do not want to place any pressure on eligible players to travel internationally to qualifying events in other countries. We want to make sure that the health and well-being of players is at the forefront of our thoughts. Each country has its own policies regarding current inter-country and cross-border travel and we must all respect and adhere to these policies in full.
We presented two options in January and today, we are announcing that due to the current travel circumstances, we must move to Option 2 for the selection of the team.
Option 2 – as detailed in the original letter:
If the Covid-19 pandemic and resulting travel restrictions continue for a longer period and impact international participation in the last six events, we will have to proceed based on there being no automatic team selections from the qualifying process. Instead, we will select the whole team based on a combination of the following:
Performances at the original PJSC qualifying tournaments that are played
Performances at other national and international tournaments that are played
Input from national coaches
Input from our Captain, Annika Sörenstam
Option 2 will give all players the opportunity to excel in the events in which they are able to compete, while recognising the anticipated impact on international travel within Europe.
We are sure you will be as frustrated and disappointed as we are with the situation, but we cannot ignore the difficult and variable circumstances we are experiencing. We have thought long and hard about this and we believe this is the fairest and most appropriate way to move forward with team selection.
Thank you for your understanding, patience and support.
PING and the LET
---
About the PING Junior Solheim Cup
The next PING Junior Solheim Cup will take place at Sylvania Country Club, Toledo, Ohio, United States, 1st – 3rd September, 2021. The venue is located 15 minutes from the Solheim Cup venue, Inverness Club.
Annika Sörenstam is the Captain for the Team EUROPE and Renee Powell is the Captain for Team USA. The teams will be selected in July 2021.
Inaugurated in 2002, the PING Junior Solheim Cup 2021 is a version of The Solheim Cup for female amateurs aged 18 and under (born 2003 and later) and follows a similar format to the senior event, featuring the top 12 European junior amateurs versus their American counterparts.
The aim of the competition is to give junior golfers from both sides of the Atlantic the opportunity to gain international match play experience as well as the chance to meet, learn and be inspired by the professional players playing in The Solheim Cup.
Carlota Ciganda, Spain (PING Junior Solheim Cup 2005 and 2009; The Solheim Cup 2013, 2015, 2017, 2019): "I have great memories from the PING Junior Solheim Cup. I enjoyed making great friendship and I loved playing for a team. Golf is such an individual sport and playing for a team is a feeling that you don't experience normally. It really motivated me playing for Europe, for the captain and your teammates. Also, when you look at the names that have played both the PING Junior Solheim Cup and The Solheim Cup it keeps you motivated. I remember in 2005 and 2007 it was a lot of fun to watch The Solheim Cup and I wanted to be one of those players."
Lexi Thompson, United States (PING Junior Solheim Cup 2009 and The Solheim Cup 2013, 2015, 2017, 2019): "The PING Junior Solheim Cup was an experience of a lifetime as a junior golfer. Being able to represent my country with an incredible team and a captain that I've looked up to my whole life, Nancy Lopez, was a great honor. Friendships, experiences and memories that I will never forget came from that event. Events like this are why I love the game and is why I'm at where I'm at today."
---
Updated European Eligibility Process as of 20th May, 2021
12 participants
Participants must be girls and 12-18 years old (born 2003 or later) and must not have reached their 18th birthday prior to 1st January, 2021
Participants must be amateurs and must not be members of a competitive collegiate golf program
Participants must be a European citizen (as per IGF National Policy)
Performances at the original PJSC qualifying tournaments that are played, performances at other national and international tournaments as well as input from national coaches and Captain Annika Sörenstam will be taken into consideration when selecting the team
The European PING Junior Solheim Cup team will be decided no later than 26th July
Previous Results
| Year | Venue | Location | Winning Team | Score | USA Captain | Europe Captain |
| --- | --- | --- | --- | --- | --- | --- |
| 2019 | Gleneagles, Scotland | Scotland, EUROPE | USA | 13-11 | Mary Bea Porter-King | Mickey Walker |
| 2017 | Des Moines Golf and Country Club, lowa, USA | Iowa, USA | USA | 14.5-9.5 | Alice Miller | Alison Nicholas |
| 2015 | Golf Club St. Leon-Rot, Germany | Germany, EUROPE | USA | 13-11 | Joanne Carter | Iben Tinning |
| 2013 | Inverness Golf Club Colorado, USA | Colorado, USA | USA | 14.5-9.5 | Kathy Whitworth | Janice Moodie |
| 2011 | Knightsbrook Golf Resort, Ireland | Ireland, EUROPE | USA | 12-12 | Meg Mallon | Liselotte Neumann |
| 2009 | Aurora Country Club, Illinois, USA | Illinois, USA | USA | 15.5-8.5 | Nancy Lopez | Carin Koch |
| 2007 | Bastad Golf Club, Sweden | Sweden, EUROPE | EUROPE | 14-10 | Donna Andrews | Catrin Nilsmark |
| 2005 | The Bridgewater Club, Indiana, USA | Indiana, USA | USA | 16-8 | Colleen Walker | Charlotta Sorenstam |
| 2003 | Bokskogens Golf Club, Sweden | Sweden, EUROPE | EUROPE | 12.5-11.5 | Val Skinner | Helen Alfredsson |
| 2002 | Oak Ridge Country Club, Minnesota, USA | Minnesota, USA | USA | 17-7 | Sherri Steinhauer | Marta Figueras-Dotti |