In this series of interviews, we are catching up with LET players during the coronavirus lockdown, to see how they are coping and what they are doing to keep their golfing skills sharp.
Felicity Johnson says that she's been undertaking the most intense and beneficial short game practice in years during the current Covid-19 lockdown.
The two-time Ladies European Tour champion has taken up a number of chipping challenges and is posting them regularly on social media.
Firstly, it was the Golf Foundation's #LockdownKnockdown Challenge involving flower pots, which was designed to keep all kids and the whole family loving practice and learning about golf at home, while having a good laugh together.
Then it was the step ladder challenge, where she had to knock golf ball boxes off each step by chipping balls through the six spaces on a step ladder working from the bottom to the top. This took around four hours and 2,475,295 failed attempts before she smashed it.
"A test of my patience to not donate my wedge to the neighbours as much as it was of my chipping ability. A day well spent and worth every blister. Give it a go, what else is there to do?" she said.
Having been tagged in another challenge, she didn't rest until she had successfully hit a golf ball one-handed from a grassy lie on her garden lawn onto a concrete slab which then ricocheted onto her handheld tennis racquet and from there, she hit it into a small flower pot and celebrated like she had holed the winning putt in the Solheim Cup.
The next challenge being undertaken is really testing her patience and she has increased the skill level.
"What I'm trying to do is hit the ball onto a cricket bat and then from there it hits another cricket bat and then goes into a mug. I think a couple of the cricketers have been trying to one up each other and have reached seven or eight cricket bat hits, but I've only got two sets.
"If you just get it slightly wrong, it goes off on the wrong angle and doesn't bounce on to the next one. It's so frustrating, but I will do it eventually!
"It's about finding the right ball to use for both of the two hits on the cricket bat. I'm using table tennis balls, but actually they're so light that you need to have the right weather and its been too windy. I've spent seven or eight hours at it and I'm loving it.
"It's fun and actually quite good practice – and it's all short game which is obviously one of the most important aspects of the game. It really kind of focuses you on to a small target so it's the best short game practice I've done in years."
Felicity's step-father Paul is a golf professional and so she feels fortunate that he has been able to supply a wealth of golf equipment and build a training area in the garden.
"I don't particularly want to work on anything technical but I enjoy just being able to hit the golf ball," she added.
Another challenge which Felicity has undertaken is reading The R&A's Rule book and she has been joining the LET's weekly Rules of Golf webinar to refresh her knowledge.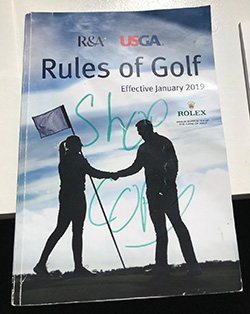 "That's the one thing I said I'd do that I haven't done before, read the Rules of Golf. I tried to put a couple of hours a day into it, but it's the wording, it isn't that easy.
"My knowledge of the Rules is pretty average and my solution has always been to call a referee, which I think a lot of us do, as it is always the safe thing to do, but a lot of the time I see the players on TV using them for their advantage, so if at some point it saves me a shot, or I just have a bit more clarity in the Rules, I thought it could be really beneficial.
"After I finish playing, I'd like to move into the organisational or event side of things, so it would be great if I've got that qualification already to be a step ahead of other contenders."
Felicity completed the Rules Academy Level 1 Exam online and is enjoying the LET refresher sessions and quizzes.
"LET Director of Tournament Operations Davide Lantos leads it and he talks you through the Rules in the rulebook and applies them to LET situations, so it's very relevant.
"No pro player at the end of this should have any excuse for not knowing the pace of play policy or water hazard drops and that sort of thing. There's no excuses!" she added.