Xiyu Lin of China is warming up for her Sanya Ladies Open title defence at Yalong Bay next week with a strong performance at the Blue Bay LPGA, which is approximately one hour's drive away.
Lin, who will be targeting her third straight Sanya Ladies Open victory next week, opened with rounds of 72 and 68 at Jian Lake Blue Bay Golf Club for a four-under-par total, to sit eight strokes behind the halfway leader Minjee Lee of Australia in a share of fifth place.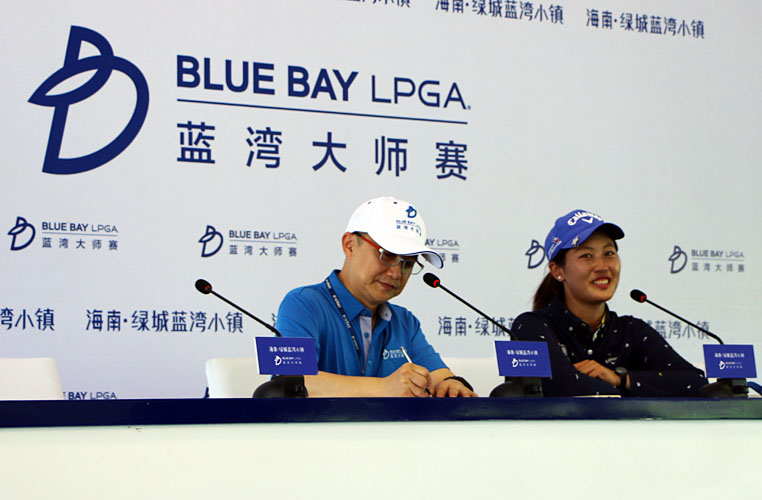 Hainan is a special place for Lin, as she has had a string of strong results on the tropical island, beginning at the 2010 Sanya Ladies Open, when she finished in ninth place as a 14-year-old amateur. She finished fifth at the 2011 tournament on her professional debut aged 15 and tied for fourth in 2012, before joining the LET.
The success story continued in her rookie year in 2013 with two top-10 finishes at the Sanya Ladies Open and World Ladies Championship in Haikou, Hainan.
In 2014, she earned her first LET win at the Sanya Ladies Open before going on to win the title for a second time in 2015, a week after recording a career-best tie for fifth at Blue Bay on the LPGA.
The 20-year-old, who represented China at the Olympic Games in August, explained: "I think one of the biggest reasons is Hainan is actually very close to my home town. My home town is Guangzhou. It's only like an hour flight from here. I guess the course condition will be more close to where I would normally practice when I was young, so the grass and the greens, it's very familiar for me. And also to be honest, I love playing in hot weather, much better than cold weather. So I love just playing under the sun, and doesn't matter if it's windy or not. And plus, I love the food in Hainan. I love the coconuts and mangos and everything."
Once again, her mother will join her at the Blue Bay LPGA and Sanya Ladies Open. "Every time I bring her to Hainan, something good happens. That's why I bring her here again," Lin said. "I was away from home when I was really, really young, and I always want to spend more time with my parents, and not just my parents but all my relatives in China."
Last year, Lin finished tied for fifth at plus three at Blue Bay, but she is already four-under-par for the tournament. She continued: "As far as this year, maybe because at the very beginning, the green conditions were actually softer, so it was easier for us to hold the ball there. And also, it's not that windy every day.
"I believe this year, because of the conditions, the strategy has to be very, very different. Last year, if you reached par, it's already pretty sufficient. This year, you have to on a daily basis be under par in order to really thrive and in order to do well. I think this is what I do. I'm trying to catch as many birdies as possible. As far as next week, I haven't thought about it thoroughly yet because I want to focus on the next two days, especially try to reach my objective and get better as far as my form."
The seventh edition of the Sanya Ladies Open takes place at Yalong Bay Golf Club in Sanya from Thursday 27 to Saturday 29 October. The field of 126 players will be cut to the top 60 and ties after Friday's second round.